INTACTA CODE A DOTTY IDEA
l
CAN YOU IMAGINE

THAT THE DOTTY IMAGES THAT YOU SEE ON THE RIGHT
WHEN SCANNED AND RUN THROUGH A SOFTWARE

WOULD CONTAIN 20 MUSIC TRACKS
OR A GAME SOFTWARE
OR THE LAST 2 YEARS BACK-UP DATA
OF A COMPANY
WELCOME TO THE WORLD OF INTACTA

What is Intacta Code ?

Intacta code is a system that allows digital data to be printed on a single page
in a pattern of black and white dots
arranged on a two-dimensional graphic grid.

Soon you could be downloading SOFTWARE, MUSIC, MOVIES and SPECIAL OFFERS
directly from your newspaper.
Researchers at INTACTA Technologies Inc., have found a way to encode almost any kind of computer
program, music files, high resolution images, video clips etc.
The dots can be converted back into software or music tracks
by passing a standard scanner over the pattern.
Once the data dots have been scanned,
a computer can turn them back into their original program using a special software.
The program to do the converting is freely available on the Internet.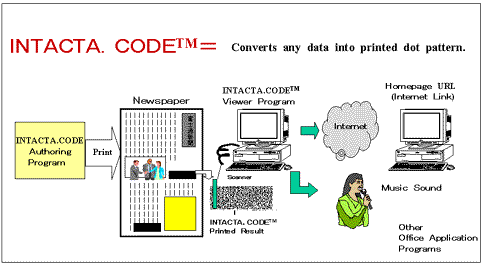 Newspaper pages are ordinarily made up only of characters, photographs and drawings.
However, the impact of television and the spread of multimedia have led to demands from readers
for newspaper pages with greater representational power.
Multimedia capability, it is thought, would enable newspaper publishers
to offer more appealing news coverage and advertisements.
Readers, after installing the viewing program on a Windows computer,
can capture the data with any commercially available, general-use scanner
with a resolution of at least 300 dpi and then reproduce it in its original multimedia form.
This technology could be used, for example, to reproduce music samples,
obtain stock prices and other numerical data in spreadsheet form, and retrieve game programs.
The technology is also expected to facilitate the use of paper as an alternative "memory" format.
It is anticipated that the use of these programs will help the newspaper industry introduce a multimedia
dimension to newspaper pages, making possible the attachment of detailed information
with advertisements and otherwise broadly increasing the appeal of printed media.
l


CLICK ABOVE TO KNOW MORE ABOUT HOW IT WORKS
AND
FREE INTACTA CODE READER SOFTWARE and SAMPLES